The sincerest form of flattery
on
February 18, 2013
at
12:00 am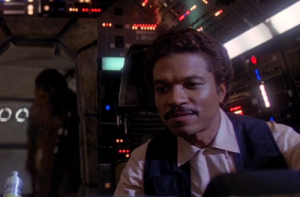 It's an odd moment in the movie. Lando Calrissian is wearing Han Solo's clothes and has taken the smuggler's spot in the pilot's seat of the Falcon. Chewie seems to accept the new status quo and remains co-pilot, while Luke and Leia place their trust in the gambler / businessman to help track down Han Solo. But why is it okay for Lando to wear Han's clothes?
I find it hard to believe that Han's pants and sleeveless jacket are standard pilot attire. No, it looks like Lando went on a wardrobe raid. Were his Bespin threads in the wash, or was he doing it in a badly misplaced effort to bring some levity to the sombre crowd? I favor the latter.
Technically, Lando is wearing a baggier shirt which is buttoned right up and has a longer, squarer collar. But who cares about that right now? And sure enough, there is an action figure of Lando in this outfit. For the short time he's in the movies, he sure gets to change costumes a lot!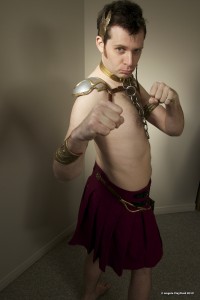 Meanwhile, on Mantooine… Ryan Consell, seasoned cosplayer and Star Wars fan has done the unthinkable! He has gender-swapped the Slave Leia costume! The geek culture website Mad Art Lab has a great blog entry from Ryan about his project and his reasoning as to why he undertook such a daring challenge. It is an interesting read, that raises good points about how we perceive image in society and why people choose to don the bronze bikini (male AND female).
I have to admit, it is hard not to objectify women who wear the Slave Leia outfit. I'm a guy and I'm really keen on the female form, so comic conventions often provide some eye candy that the gentleman in me tries my best not to get caught oogling at.
Skin! Princess Leia! It's a combination that a red-blooded Star Wars fan can hardly ignore. But the reality is that the girls (and guys!) who put on these outfits (a lot of them painstakingly tailored from scratch by the cosplayer) have no intention of doing anything more than paying homage to their beloved fictional characters and the artistry of their costume design.
Meanwhile, in Barry's living room… Barry has another video, detailing his latest progress on his epic living room Hoth diorama. The deadpan humor really makes this video series for me. See last Friday for the overview of Barry's Hoth diorama work.
And finally, on Leannetooine, Leanne made a really sweet illustration of her two favorite local sports teams which you can also buy on a T-shirt! Another way to support us even if they're not your teams.