The Tale of Oola & Biggs #1
on
February 18, 2014
at
10:33 am
I've had this idea in the pipeline for a few months — ever since Biggs swung in to the rescue of Oola the slave girl, saving her from becoming Rancor chowder. The idea that Biggs, a character who explicitly died on screen, would save one who dies off it, just seemed like a lot of fun. I also didn't have much time to play with Oola during her short moments in Return of the Jedi and liked the idea of being able to explore what she might have to offer. I've also had the intention of doing a short Biggs spin off series for a while now. The capture of Leia and Han Solo in Jabba's Palace seemed like one the best places to take a short break in the main ROTJ story line.
So for the next few weeks, we will be following Oola and Biggs as they brave the elements of Tatooine and try to elude death.
Leanne and I would like to take a moment to congratulate Allen Shepherd, newly elected Commanding Officer of the 501st Legion's Old Line Garrison. We've known Allen for nearly two years now and he's a great guy with boundless enthusiasm for Star Wars, film and trooping. Congratulations, Allen. Here's to a great year ahead for the 501st. MTFBWY!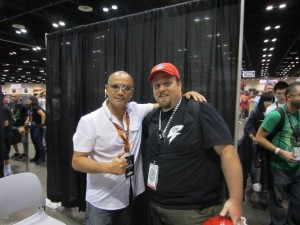 By the way, Blue Milk Special will be back on Monday and Tuesday next week. We are giving ourselves a little extra time this week to catch up with work. The Tale of Oola and Biggs should run into the first and second weeks of March.