Watch Your Speed!
on
September 9, 2010
at
12:00 am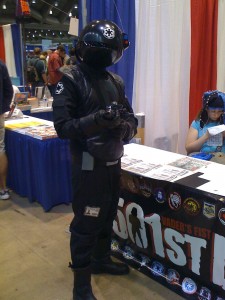 The 501st Legion – Vader's Fist.
The Legion is an all-volunteer organization of Star Wars costume enthusiasts that make regular appearances at conventions and charity events all over the world. The focus of the Legion's creative output is the recreation of the costumes of the Empire and bounty hunters from all eras of the Star Wars mythos. These folks do amazing work as volunteers for noble causes, raising donations and bringing some energy and excitement to to charity events.
BMS owes the 501st Legion a thank you for the support of many of its members at the Celebration V Star Wars convention. Vader's Fist, we salute you! Oh! The 501st Legion also has its own Podcast which has been running for just over a year. Check it out.
The photo of the Death Star Gunner was taken at Baltimore Comic Con a couple of weeks ago. I didn't get the chance to talk to any of the 501st at the show due to our surprise inundation with sketches and activity around our table. Fortunately, I did have a chance to snap this picture of the excellent costume of one of my favorite Imperial soldiers.
New to Blue Milk Special? Start reading from the beginning!