When Wookiees Try to Help
on
June 2, 2010
at
12:23 am

Hey! I have great news! Our next door neighbor just finished renovating their house! Or should I say… website?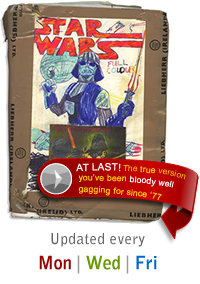 Remember John White, the creator of the StarWarsAge9 webcomic? John is one of our webcomic brothers-in-arms. I like to think of BMS and SWA9 as good neighbors. When John was 9 years old (back around 1979 or so) he put pen to paper and made his own comic book adaptation of the Star Wars movie. He is now sharing those often unintentionally humorous pages from his old journals with the world via his website, which he only recently relaunched with a new website. You can now leave comments for each page as well as enjoy all the old features like John's excellent blog, which I highly recommend, and of course his contemporary commentary on the works of his younger self. Always something to smile at, so check it out three times each week on Monday, Wednesdays and Fridays! You can join the Facebook page for updates and further discussion. I encourage you to also take a moment to show your appreciation for his efforts by voting for him as often as you can! It all helps increase exposure. 🙂
Are you new to BMS? If so, then you can start reading this webcomic from the beginning by clicking here.
Watch the Star Wars Holiday Special animated short below, courtesy of YouTube.