Luke's Missed Opportunity
on
May 4, 2011
at
12:00 am
Phantom Luke says: "May the 4th be with you!"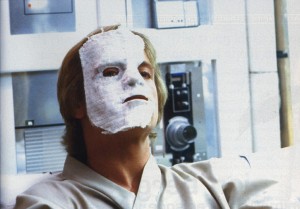 After a month long hiatus Blue Milk Special returns. Did you miss us? We missed you. And not in that corny way. No, we genuinely missed the adoration and the TopWebComics.com votes! 😉
As you can see, we've moved on to a scene that was cut at the last minute by the ruthless Irvin Kershner and George Lucas. A clip of Luke and Leia almost kissing made it into one of the trailers, I believe. I think it was cut due to a reference in the dialogue about the Wampa's in Echo Base sub plot. The scene also, notoriously gave us a very near kiss, that at the time wouldn't have been an issue, but by Return of the Jedi would, in retrospect be fairly messed up. The full sequence has never made it into the hands of fans, but it has been reconstructed from various surviving photos and script and can be found at the excellent Star Wars Cut Scenes website.
The Bacta are growing well. The scars should be gone in a day or so. Does it still hurt?

LUKE
I'm fine. Really. Leia … when I was out there and it looked pretty bad … well, it made me think about things.

LEIA
Me too. I was afraid.

Their eyes meet. Luke touches her cheek with his hand.

LUKE
I don't really know how to say this … I never have before … Leia, you know how I feel about you …

She does and it's confusing. Their lips are very close. About to kiss.

The door opens noisily and Threepio enters with Artoo. Leia pulls back, startled. Luke realizes the moment has been lost. His mind races for a way to regain it as Leia takes on her more formal manner. The droids are a bothersome distraction; Luke's concentration is on Leia. Artoo beeps a cheerful greeting.
DESIGN YOUR OWN MILK CARTON WINNERS!!!!!!
We have two winners for the design your own carton competition. The competition was created by T. Gatto, BMSketeer and official BMS milk carton designer. The judging was intense and required T., Leanne and myself to fight a lightsaber duel to the death… metaphorically. After the metaphorical dust settled and we had stumbled back to our feet, panting and coughing blood… metaphorically… we finally decided who would win the much coveted UNDECIDED PRIZE.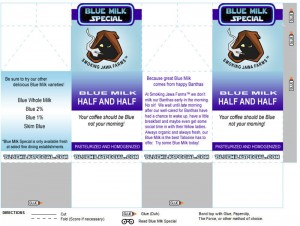 And the winner is:
SheLikesUmBoth!
Yes, that's the username of one of our newer readers and the winner of the first ever Blue Milk Special Design Your Own Milk Carton Competition. SheLikesUmBoth! submitted a carton that showed off her own graphic design skills and paid homage to the Smoking Jawa, a popular figure these days.
In her entry, SheLikesUmBoth! said: "I know the general intent is to put a face on the carton, but I wanted to do a real carton (hope that's okay)." T. adds "this carton is exactly what I was looking for, as it allows for complete creativity on the designers part." Leanne and I agree, although she had tough competition…
The runner up prize goes to Jerry, another graphic designer, who designed an R2-KT (R2-D2's pink counterpart). Just look at the gradients and the linework! T. just happened to be working on his own version at the same time. Jerry's work, in T. Gatto's own words was "admittedly better than my R2-KT." Don't be so hard on yourself T.
A big thank you to SheLikesEmBoth! and Jerry for their excellent entries. But don't worry, you haven't won a metaphorical prize. You will receive a BMS pinup in the mail, illustrating a BMS character of your choosing. SheLikesEmBoth will get to choose one or two characters for her First Prize. Jerry, a single character of your choosing. Email us privately with your bank account… er mailing address and give us a couple of weeks. 😀
Please join me in congratulating our winners!
New readers should definitely check out T. Gatto's gallery of Star Wars milk cartons, fan made and based upon Leanne's distinctive BMS art style. The cartons can be found on this site, as well as on T.'s Blue Milk Carton FaceBook page. I encourage you to check out and "LIKE" his FaceBook page where you'll find milk cartons from other shows and movies, including Doctor Doom, Doctor Who and, I believe, Indiana Jones (sometime soon?).
Moving on… you may have noticed that we asked a question of our readers on the BMS FaceBook page: What Non-Star Wars character would you like to see make a guest appearance in BMS? If there is enough consensus or we simply like a suggestion then there's a good chance we will actually be crazy enough to do it. Have an idea? Let us know over on our FB page.
Don't forget, there's a new voting incentive strip at TopWebComics.com starring Smoking Jawa. Check it out and vote for us daily (if you can be bothered and think it's worth it). Thanks!
We will be back again on Monday in a new once per week schedule.